9th October 2019
8 min read
How To Be More Successful With Your Email Marketing Campaigns
I bet that you came here for answers in regards to your email marketing efforts and its success. Maybe your campaigns didn't go as well as you would've expected them to go. Or maybe you'd like to make them perform even better.
Whatever the case, you're right to invest in email marketing, and here's some proof: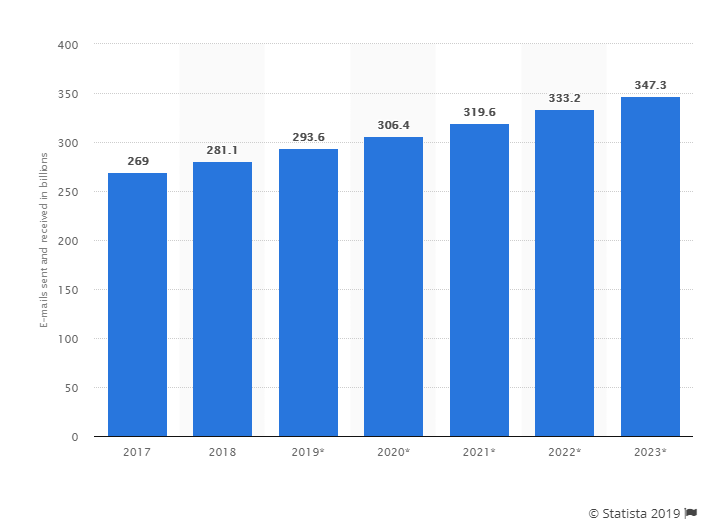 According to the statistic above, 281.1 billion emails were sent and received in 2018 alone, which means that email is a medium that is widely used, despite some past ominous predictions (which were spread around
through email, by the way).
So, let's see what you can do for your email marketing campaigns to be more successful.
Definition
Let's see what a campaign is, before going through with the rest: An email campaign is sent from a brand, service, business, you name it, to every email address on an email list, in order to let them know about… Well, something. Be it new features, a special offer and so forth.
The goal is to entice the subscribers into taking some sort of action, without blowing up your marketing budget.
And while it sounds simple, setting up a successful email campaign goes beyond clever copy and great visuals-even though these are the basis on which one must build.
Set realistic goals
Without proper, achievable goals, you cannot know exactly what you're aiming for. And without knowing that, you have no idea what to create in the first place.
Is your aim to reactivate inactive subscribers? Maybe you'd like to promote a seminar. Or perhaps you want to build a landing page that will aim for the recipient to use a discount code found in the email and, ultimately, buy, thus optimizing your conversion rate (CRO).
Whatever it is that you aim for, your email campaign should reflect that. Otherwise, the subscriber won't know what the email is all about, and without them knowing a piece of information like that one, don't expect them to convert in any way.
Write a compelling subject line
The first thing a subscriber will notice about your email will always be the subject line. This means that you have to make it as enticing and personal as possible.
You see, an email is like a knock on the door, so why not call your subscriber's name while we're at it? It's the best way to get enough attention to make them open the email itself.
You can study your competition, see what they're up to and create an email subject line that will surpass theirs.
Add a name or something your subscribers have already purchased – if we're talking about an email that aims for suggestions – or something that needs to be replenished – if we're talking about replenishment emails.
Word of warning, however: Do not, under any circumstances, use spam-triggering words and phrases. Avoid things like "Congratulations" or all caps, if you want to keep your deliverability rate intact.
Craft copy and CTAs carefully
One thing you can easily go overboard with is the copy of your email. It may be the nicest thing, being able to write and write about something you're excited about, but you just need to keep yourself from doing this, more often than not.
You need a small body copy that will be saying enough for your customer to understand why they received the email, without saying too much – you've got no more than a few seconds to make an impression, you know!
If you want to show something more contemporary and fun, try and add a "Read more" or "See more" to your email and redirect your subscribers, thus increasing your CTR!
Pro tip:
If you're aiming to boost sales, maybe you should include an explainer video instead of a simple newsletter with text and images! This is bound to increase CTR, engagement and, ultimately, sales!
The second thing one can go overboard with is CTAs. So, don't overdo it. You need only one – two at most! – to get your point across and get users to do what you want them to do.
The most tricky part is to not pack your email copy with CTAs, which is difficult to avoid, given the fact that you need your openers to do something. Just use a couple, one at the beginning and one at the end. Or even one at the end will do.
And if you need your CTA to be clear and concise, you want to make it small enough to be memorized, if needed.
Test before you send
A/B testing is non-negotiable if you want to make sure that your email campaign will actually work and you haven't wasted time or resources. You need to test for everything: Colors, design, copy, CTAs, subject lines, the works!
Of course, you'll need to test for mobile and desktop view on top of everything. You see, you've only got one shot, so you need to make sure it will be the right one.
Test one component at a time, to make sure that you know what made a difference to the open and click-through rates, try different combinations and study your data very well. That way, you'll end up with emails that will most definitely convert, seeing as you'll know what was preferred, by whom and why.
Takeaway
Of course, there are more things you need to do, such as clear your email list, make sure that you've got active subscribers on there and segment-always segment!
So, what do you think? Are those tips and tricks enough to help your email marketing campaigns be more successful? Are there any tips we haven't mentioned that you've used?
Don't forget to tell us in the comments and as always, share the knowledge!
About the author

Téa

: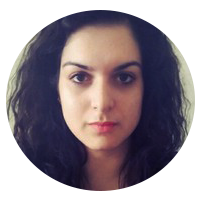 Téa Liarokapi is the Senior Content Writer for Moosend, an email marketing and marketing automation platform, and an obsessive writer in general. In her free time, she tries to find new ways to stuff more books in her bookcase and content ideas – and cats – to play with.