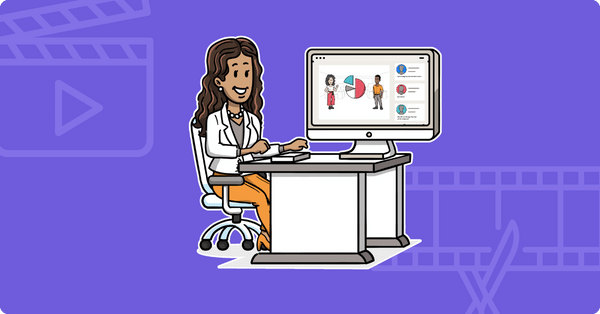 3rd November 2021
9 min read
9 Video Content Types That Users Adore
Getting started with video marketing is a winning idea today. Users love video content, and when created professionally, it can drive a lot of business benefits. What's more, video marketing becomes a real game-changer when you know about the video content types users engage with best. Creating them is an excellent opportunity to stand out, convert leads into customers, improve your brand recognition and loyalty, solve users' problems, boost sales, and much more. Let's find out what video content types are the most loved and conversion-driving in 2021.
Top Video Content Types That Will Engage Your Audience
Below are the most promising video content types you are welcome to add to your video marketing plan for business:
#1 – Company story films (backstage)
Modern customers would like to know whom they buy from personally. Creating a company story or a backstage video is an option to tell them more about your business, values, mission, and people behind them. The users love these videos for their sincerity, authenticity, and the feeling of trust and credibility they evoke.
#2 – Tutorials & How-to videos
According to Think with Google, how-to videos grab the most attention of watchers and engage them best. The reason for this is pretty clear – good and actionable how-to videos help watchers to solve their problems step by step, using the power of visuals and narration.
For brands, creating how-videos means strengthening relations with their audience by creating a feeling of gratitude and commitment. What's more, you can reuse some of the best practices to create an explainer video when producing your tutorial or how-to clip to make it even more clear, engaging and actionable.
Ideas for how-to videos are countless and depend on your business specifics. That's how a company offering a task tracker app can record a video explaining how to manage tasks in their service or a video surveillance systems provider can show how to install their ring door view cam.
#3 – Demo videos
Demonstration videos come in handy when you need to show your product in action and explain how to use it. It's a kind of educational clip where you overview your service or product features and demonstrate how it works.
Demo videos are perfect for SaaS (software-as-a-service) tools which are usually complex to interact with without preliminary education. That's how 83% of users decide whether to download an app only after watching a demonstration video.
What's more, demo videos have solid marketing potential. You can effectively distribute them across different marketing channels – publish on a landing page, promote via social media, add to your newsletter and even use it during a trade show or event.
#4- FAQ videos
As the name suggests, a FAQ video is designed to answer the most common questions of your customers with visual support. Modern users like neither reading nor calling the support team but communicating with chatbots or watching videos. That's how Hubspot concluded that 47% of companies managed to reduce the number of support queries by introducing video answers.
Such videos also have a lot in common with explainer videos since in this case, you are anwerting, showing and explaining something in a single video. They turn out to be simple, engaging and understandable.
#5 – 360° product overview videos
This type of video makes a lot of sense for the eCommerce brands. You can show the listed products in three dimensions, allowing buyers to investigate them from all angles and dwell on the details.
The real estate and hospitality industries can also greatly benefit from 360° videos, by showcasing the surrounding area. Such videos earn the customers' trust since there is no opportunity to hide the drawbacks compared to photos.
What's more, 360° videos are highly interactive – the watcher can tweak them.
#6 – Animation, explainer videos and storytelling
There are no creative limits for animation videos, and perhaps, this is why the users are fond of them. Animation videos are versatile and can be tailored for any marketing goal.
In most cases, the brands choose animation to create explainer videos and use the power of dynamic visuals to simply explain the complex things and keep users engaged.
Animation is also a good choice for creating brand stories, most of which usually turn out to be touching. Corporate storytelling is a great way to build stronger connections with your customers by evoking their emotions. Such stories are also very memorable.
All in all, users love animated videos because of their engaging nature, interesting stories, cartoon-like style, vivid colors, and simplicity. All these benefits for the users are perfectly aligned with the brands' video marketing benefits – user engagement, recognition, loyalty, conversion, and other video marketing KPIs.
#7 – Customer testimonials
There are a lot of fake reviews and testimonials on the web. Writing a fake review is pretty simple but creating a video requires effort. That's why video testimonials are more credible compared to written reviews. And that's why the users love and watch them on the consideration stage of the sales funnel – video testimonials from previous buyers are unlikely to be compromised.
#8 – Personalized videos
Personalized videos are a new step in the video marketing evolution. As the name suggests, such a video comes with personalization elements, like mentioning the viewer's name, job title, location, or other personal information available and relevant.
Personalized calls-to-actions presented in such videos are the most powerful conversion-driving tools. According to the HubSpot research, they can boost the conversion rate by 202%.
The users love such videos because of the feeling it was created for them specifically. For example, you can personalize an explainer video by using the viewer's name when you explain the concept or the process to them.
#9 – Unpacking videos
Unpacking videos have a lot in common with customer testimonials. The main overlapping feature is that both work as solid social proof. Customers love unpacking videos since they help avoid expectations vs. reality mismatches after buying a certain product and become better aware of what is hidden inside the box.
A lot of brands encourage their customers to create user-generated content, shoot the unpackaging process, and share their videos via social media. In exchange, retailers offer the customers some perks or discounts. This is a win-win tactic for both retailers and their leads since the first can build social proof almost for free, and the latter can make better purchasing decisions.
Conclusion
The video content types we have reviewed above are not only loved by modern users but are also beneficial for the businesses creating them. What's more, each of these video content types can be perfectly tailored to your sales funnel. They can work as a tool to move your leads from the top of the funnel to the bottom. Here are dozens of inspiring examples of video marketing for your next campaign.
Choose the one you like best and proceed with creating it with the help of simpleshow video maker!
Author's bio
Lily Roberts is a senior digital marketing specialist with over 10 years of experience in corporate branding and product management. She's a passionate tech enthusiast spending her spare time on sharing professional insights.