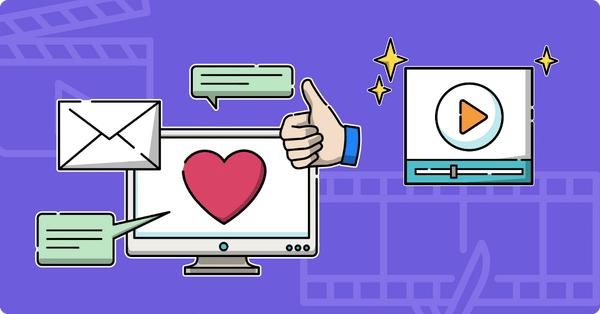 13th October 2021
10 min read
The Best Video Marketing KPIs To Measure Your Success
If you are looking for video marketing KPIs to measure your success rate, you have to stop at the right place. But before you opt to measure success on your videos, ensure that you have clearly stated the objectives you want to achieve in response to it.
To get the best results, your team must acknowledge all the goals before proceeding. Hence, to serve this purpose best, it's better to establish a presentation, conduct a meeting having the whole team on board and present your thoughts on your video marketing KPIs in front of them. However, to explain understandably, you may consider Google Slides templates. Since the infographics graphs within would aid you in presenting the complex data in a much concise and easy way. Doing so will ensure that everyone is on the same page, which will make them work effectively. Thus, resulting in a job well done.
Now that you have processed, you must measure your success rate to see if you have achieved the desired goals or not. Consider the following video marketing KPIs will enable you to measure it:
1. Pay Rate
Play rate is the number that measures how effective the video is at persuading the visitors to spare their time to hit play and start viewing your video. Therefore, it can aid you, especially when you want to reach out to the desired percentage of your target audience.
Moreover, it also indicates how relevant the subject matter of your video is to the region where it is displayed. Due to this fact, you must keep in mind that the play rate of all the videos would differ since the content of a particular video might not attract many besides your target audience. On the other hand, if any of your videos has some general setting or matter of discussion, then you might attract many to play your video, resulting in a higher pay rate.
2. View Count
View count indicates the number of times your video is viewed. Fundamentally, indicating the size of your video's audience. You would like to measure views if you want your video to be seen by millions of people in your target demographic. However, keep in mind that views are calculated differently across the web; on YouTube, for example, a view is tallied after 30 seconds of video viewing. On the other hand, on Facebook, if the user has viewed the video for just 3 seconds, even then, it would be considered as a view. Keep this in mind while collecting statistics of your video marketing KPIs if you've posted your film on multiple channels.
Don't consider the end of video marketing if you don't get enough views on your video. Instead, use it to improve, as this tool enables you to know how far your video has spread is only the first step in determining its success.
3. Social Sharing
Sharing videos on social media platforms such as Instagram, Facebook, etc are said to be social sharing. This increases the number of people who see your video, resulting in additional sharing. For instance, if the person likes the video or finds it informative, he would forward it to his friend circle to benefit from it, and the cycle goes on like this. Thus, enabling you to reach out to a larger audience.
Many businesses usually opt for video content marketing, such as sharing explainer video tutorials using their products or interviewing the customers about the products, etc. However, for better implementation of your marketing plan, you must keep in mind the Do's and Don'ts of Video Content Marketing.
Social sharing will also indicate how interesting your video is and how willing they are to share it with others. All of this leads to increased recognition of your company or brand, as well as the ability to reach a larger section of your target market. Hence, keep track of your social sharing.
4. Engagement
Engagement is said to be the percentage that indicates the duration of the video viewed per person.
This metric is particularly relevant when displayed as an engagement or activity graph. It depicts how your audience has watched, re-watched, and stopped viewing your video as a whole, the average rate of engagement. You may begin to assess the quality and utility of your videos based on this information.
For instance, you can use explainer videos to reboot your engagement rate. By explainer videos we mean videos with simpler understanding knowledge so that the audience can make the most of the provided content. Know that winning one heart will lead you to multiple more hearts, which means more and more engagement. Hence, look up to creative Ideas for better execution.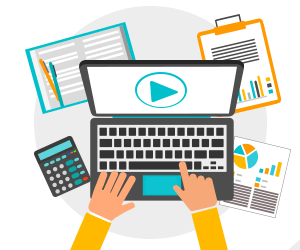 Practically every sort of video is relevant to engagement, regardless of its content. After all, by the end of the day, you want your video to be seen, even if it's for a few minutes. However, if you have incorporated Call-to-Action by the end, you'll want your audience to see the whole video. Hence, for that, you need to look out whether people are following the video till the end or bouncing around to different areas of a video. If that's the case, then engagement graphs may help as they would reveal your audience's activity at which part of the video they leave.
5. Click-through rate
The percentage of viewers who click on any CTA you put in your video content is known as the click-through rate (CTR).
This matric will tell you how well your video encourages the audience to respond and take action. However, to make your audience click on your CTA, you need to ensure that they have seen enough of the video. Hence, it's mandatory for you never to lose sight of the engagement scale. The two video marketing KPIs, engagement and click-through rates, are dependent on each other.
However, it would be best if you always double-checked your CTA. First, ensure that it fits well in the video. CTA should be pertinent to the video's theme and match the video's tone and appearance.
On the other hand, if you run out of ideas but want to maintain your engagement, you can opt to recycle your most popular content that has previously gained high views or click-through rates. Hence, look up to these Essential Tips to make Content Recycling a success.
6. Feedback
The final crucial statistic for your video marketing KPIs is video feedback. Feedback is not a number or any percentage like the others, but rather it is the qualitative information you may get from seeing how people react to and comment on your videos.
For business development, listening to your target audience is essential. In addition, you must learn about the communities they interact with in order to get a true sense of how well your video is received. Hence, take notes of the feedback you get, whether it's on a digital platform or is given in person, and try to improve yourself regarding that.
Positive feedback is generally preferable to negative input. But in some cases, you may not be seeking it. For instance, many charity videos are structured around expressing a negative emotion to their audiences, such as grief or pity.
However, it's difficult to identify ways to "enhance" this statistic because of the qualitative approach to feedback. Don't forget about the more human aspect of the data, and don't be afraid to utilize it as proof in the future to generate video content that is more customized to your target audience.
Conclusion
Summing up the article here, we believe that the above discussion might have given you the answer to your query. Considering these video mareting KPIs will get you along to measure your success accurately.
Author's Bio
Germán Viera is an engineer transformed into entrepreneur. Currently focusing on business growth, product improvements, design, marketing and of course support of our valued customers for SlideModel.com