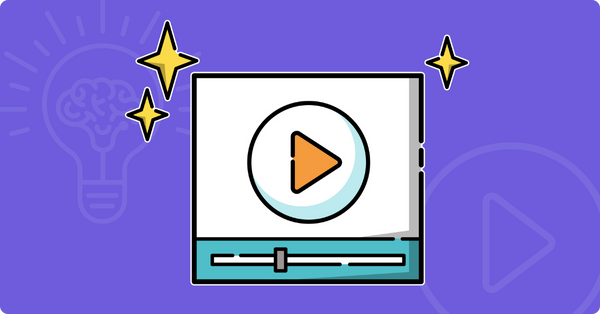 29th September 2021
9 min read
6 Creative Ways to Use Videos on Your Business Website
Content consumption patterns lean heavily towards videos today – to the extent that 1/3 of total online activity is watching videos. Therefore, using them on your business website can generate a better performance.
The popularity of video content can be explained by its entertaining appeal, retention capacity, and, most importantly, ease of consumption. These factors have made videos an attractive tool for—product walkthroughs, marketing campaigns, educational content, and advertising.
But many brands now use videos to make their business website more engaging. Purple, for instance, shows its manufacturing process to give more insights into its product with this creative video on its home page.
If you want to leverage the power of videos for your website, then this is the blog for you. This post will cover some creative ideas for business videos that you can add to your site seamlessly using a website builder.
1. Explain your workflow
Fact: 84% of customers purchase from a business after watching an explainer video.
Explainer videos offer a better insight into your business workflow—informing your audience about the problems you can solve for them.
An explainer video typically covers the customer's pain points and presents your product or service as the ideal solution. It also answers some of the most commonly asked questions about your business. Packed with all this information, explainer videos help your customers understand the brand better, ultimately leading to the purchase.
Mint.com's explainer video achieves this perfectly.
The video addresses financial planning ways at the outset and presents Mint.com as a smarter solution. It then takes the viewer through the tool's features.
Recommended video placement on your business website: Home page
How simpleshow video maker can help
simpleshow video maker helps you create explainer videos with ease. You can choose from different templates or create one from scratch with some easy prompts. You just add your script or upload a PowerPoint and the AI-based software will sort the rest for you.
2. Show a product demo
If you're a product business, then a demo video is one of the most lucrative content types for marketing—71% of customers agree.
A product demo video is more than just a tutorial of your product. It informs your audience about:
• How the product works
• Its best features
• Examples to highlight different use cases
These demo videos are particularly beneficial if your product's true USP is difficult to explain. You can use this video to highlight the utility value of your product. A demo video like Duolingo's engages with the viewer and takes the customers from the awareness to the consideration stage.
Recommended video placement on your business website: Product features page
How simpleshow video maker can help
simpleshow video maker combines animation and motion graphics with product pictures to create the perfect demo video. simpleshow also offers to create interactive videos for you that allow you to demonstrate your product or service creatively to your audience.
3. Highlight your company culture on your business website
Another great place to use video content for your website is—the About Us page. A video introducing your team, business values, and aspirations is equally important as a product workflow video.
A culture video gains the trust of your clients and candidates alike. It shows them the human side of your company by focusing on:
• Behind-the-scenes moments
• Company perks
• Work environment
• Employee stories
Company culture videos give your audience an insight into the vision, mission, and values of your company and its products and services.
Take some inspiration from EA Sports's impactful company culture video, including their employees, office setting, and group activities.
Recommended video placement on your business website: About Us page
How simpleshow video maker can help
simpleshow can give a unique touch to your company culture video. Different from the mainstream videos, create an animated culture video with graphics of your choice.
4. Train your employees
Video content is crucial for any marketing campaign. But videos also work as a great way to train your employees.
You can place your internal training videos on your website to attract candidates for recruitment. This video can equip the new hires with all the relevant information to work effectively. It also offers a peek into the backend processes of your business to generate interest.
A natural gas transportation company named Gasunie used animation to create an interactive internal training video. This video is both engaging and informative for the viewers.
Recommended video placement on your business website: Careers page
How simpleshow video maker can help
Use any of simpleshow's video maker options to create a training video for your employees. Add your business personality to the video with creative storytelling to ensure your employees watch it till the end.
5. Educate your audience
Did you know you can retain 95% of the information that you see in a video? Then why not use this to your advantage and create a knowledge base using videos?
From FAQs to how-to guides, you can repurpose any content type into a video. Give your audience the answers they have been searching for and tell them the best uses of your product or service with informative videos and attractive graphics.
Dansko's short videos about using its products are a great example of how you can educate your audience with video content.
Recommended video placement on your business website: Knowledge base
How simpleshow video maker can help
With simpleshow, you can create animation videos of any length to convert your ideas into visuals. Establish credibility for your business with value-packed videos for your audience—made using simpleshow's multiple video design options.
6. Tell your brand story
If marketing is about storytelling, then there is nothing better than a video to convey your story.
A powerful video can capture the essence of your business, express your goals, and promote your brand. You can create promotional videos in many ways.
• Combine your testimonials with a product demo to highlight its utility
• Convert user-generated content into videos to show users' trust
• Highlight your brand personality and values, like P&G's Gratitude campaign video
Recommended video placement on your business website: About Us page
How simpleshow video maker can help
simpleshow gives you the resources to conceptualize your story and convert it into a video. The tool guides you to create the perfect script and send it for video production.
Conclusion
Videos are the most engaging content format online.
A short explainer video on your website will help your audience understand your product, service, brand and company.
A video on your website can help drive more traffic and retain visitors for a longer duration. But more importantly, videos can bring out your brand's personality and increase awareness.
Pick an idea that resonates with your audience and write a unique script to hook your viewers. Remember to create responsive designs with a fast load time to ensure that your website can swiftly load on any device.
Author's Bio
Hazel Raoult is a freelance marketing writer and works with PRmention. She has 6+ years of experience in writing about business, entrepreneurship, marketing and all things SaaS. Hazel loves to split her time between writing, editing, and hanging out with her family.