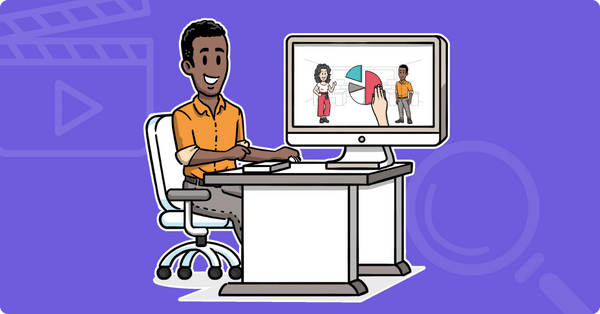 4th March 2020
10 min read
Video marketing trends you can successfully implement in your explainer videos
Whether you are working solo or as part of a company, explainer videos can successfully help bridge the gap between a product and service you provide and their user base across the globe. Some of the most important reasons to include these types of videos in your marketing strategy include:
• Higher conversion and revenue generation
• Efficient brand positioning and public awareness
• Highly sharable content fit for omnichannel marketing
• Long-term ROI due to their lasting usefulness for consumers
That being said, let's explore some of the most practical video marketing trends worth keeping in mind in your explainer video production going forward.
Trend #1: Outline your Script in Pre-Production
Given the nature of explainer videos and their utilitarian, long-term value, you should outline their content before you enter production. Whether you create animated videos or film yourself explaining certain concepts or products, the viewers will be glad to know that there are an introduction, a step-by-step explanation and a conclusion to the video. As an extension of TED, TED-Ed is a channel dedicated to education and public awareness on topics such as literature, health and global trends, all represented through intuitive animated explainer videos. This approach will ensure that your videos are not chaotic, rather, that they can be understood even by non-native English speakers. Tools such as TrustMyPaper and Evernote can be used to write, edit and format your scripts in pre-production, allowing you to focus on improving the explainer videos' quality beyond its raw content.
Trend #2: Open with a Solid Hook
In the age of hyper-speed information and social media, very few people want to spend multiple minutes watching a video without being "hooked". That being said, your video's opening seconds are crucial to ensure that users watch your content beginning to end. 
One of the most important video marketing trends is to make sure that your hook revolves around something that the users of your product or service really want to know about. This can be anything from a short snippet from the middle of your explainer video, an introductory animation with an outline of the video, or your short promise of what's to come. Using dedicated tools will allow you to edit your videos into a solid flow which will help your channel or product lineup perform better as a result. For example, mysimpleshow allows creating explainer videos for any case: pitching your startup, explaining a law or a physical exercise. Consider using the tool to engage your readers and win the audience. 
Trend #3: Keep the Wording Straightforward
As we've mentioned previously, the abundance of video content available to watch these days is astonishingly overwhelming. This means that your explainer videos should, as their title suggests, aim to explain new concepts to viewers rather than confuse them further. Make sure that the way you present new information, jargon and abbreviations is explained through visuals as you speak. 
This will ensure that people watch your content and not just listen to them in the background, elevating the levels of attention and immersion your explainer videos can provide. In addition, you can check out reviews for writers and editors which can help work on your scripts during production if you spot any bumpy segments which are technical and difficult to understand for laypeople, giving you an extra reason to revisit your editing process and make the explainer that much more valuable as a result.
Trend #4: Don't Overstay Your Welcome
Short videos are sharable videos and are bound to find their use long after you've published them. This fact should incentivize you to cut out any excess animation, transitions, long introduction or segments with little to no valuable "explainer" content from your videos. As an example, we can refer to the YouTube channel Crash Course and their animated explainer videos which offer a perfect blend of informative and visually appealing content.
Just like with film production, you will likely produce more content than is necessary for the full explainer video to do its job for your users. While it may seem like a waste not to include every second of content you've filmed and produced, cutting it into a digestible and highly useful form should be a priority.
Trend #5: End with a Call to Action
Your explainer videos should always end on a call to action in order to emphasize their utility and viral nature. Calls to action are a tried-and-tested marketing tool which allows brands and content creators to animate their audiences through clever questions and instructions embedded in the content.
A call to action included in the explainer video can be anything from a question for the viewer, an urge to share the video or simply an encouragement to implement said explainer in practice right now. These simple additions will help your explainer videos reach new audiences and become utilized in real-life beyond their initial entertainment value for the viewer.
Trend #6: Publish at the Right Time
Lastly, while explainer videos have a long life online, their publishing should be timed according to the audience's expectations. For example, if you plan on launching a new product or service, the explainer video should accompany it from day one to ensure maximum conversion and revenue rates. Alternatively, if you make explainer videos on different topics as a hobby, you should strive to create a strict schedule which will allow viewers to get accustomed to your content cycle. 
Since brand recognition and public awareness growth of your business play a large role in the way your videos will be perceived, you can utilize affordable logo design services or create your own logo to develop a solid branding for your explainer videos. Treat your explainer video production as a long-term marketing campaign for your brand and the global audience will register it as such as well. That way, your viewership will always be on the rise and you will have a much easier time organizing your research, writing and production activities in the long run. 
Summarizing
With the ever-expanding influence of social media platforms and the viral nature of YouTube content sharing, investing time and resources into video marketing trends today is the right move. On top of that, explainer videos provide the perfect blend of brand storytelling, product demonstration and long-term utility, making them the perfect content type to pursue. 
Experiment with your videos' flow of information, style of presentation and how you want the audience to perceive you and the brand you represent. Once you pinpoint the perfect creative approach suitable for your niche and affinities as a creator, the audience will flock around your explainer videos naturally as a direct result.
About the author Daniela McVicker:
Daniela McVicker is a creative writer and content editor for education websites including TopWritersReview. Besides, Daniela has been applying her knowledge of psychology and marketing in order to contribute some valuable insights to website owners who want to find and apply best practices and innovative approaches to improve the user experience.