6th October 2021
8 min read
5 Tips For Improving Customer Service To Better Represent Your Brand
When people look for companies to provide them with products and/or services, they don't just look at basic value propositions and corporate stability. They also look at brands: In other words, how those companies present themselves, and how they're viewed. What makes them worthy of attention? There's one factor that always matters: How they treat their customers and their overall customer service.
Consider that people don't generally like doing brand research. Instead, they like to find brands they like and stick with them for convenience — so if you do things correctly, it's much easier to retain a customer than bring in a new one. If you're struggling with that, you need to work on your customer service. Here are five tips for improving it and bolstering your brand:
1. Create accessible resources for your customer service

Part of customer service is ensuring that your customers have everything they need to make the best use of whatever you provide for them. If you sell a product, it should have comprehensive instructions. If you sell a service, you should be completely clear about what it involves. The scenario you want to avoid is the one in which someone pays you, doesn't understand how to benefit (or how they could benefit), then blames you for the confusion.
It may be hard to believe, but it isn't unheard of for someone to buy a laptop then contact the seller and ask what they're supposed to do with it. Should they actually understand the basics of how a computer works before buying one? Sure. But if that's already happened, you should at least make a concerted effort to turn them into a satisfied customer, and resources are key.
Of particular value here is the straightforward explainer video, because it can make it so much easier to communicate even tricky concepts. A video explaining how your product or service works will prove to be much more effective than even the most carefully-written blog post (the trick is in sticking to what matters the most). And having access to such informative resources will leave your customers much happier.
2. Adhere to brand guidelines
Consistency is understated as an element of customer service, but it matters a lot. You can be responsive and helpful most of the time, but if you slip up just once, the customer you're dealing with will assume that your brand has gone downhill and they can no longer rely on you. To help you achieve the necessary level of consistency, you need suitable brand guidelines.
A good set of brand guidelines will cover many unrelated things (such as your logo design and your slogan), but it should also cover the tone of your brand voice, how you should address customers, how you should react to negativity, and what customer success looks like for your company. Remember that your value doesn't begin and end with the products and/or services you offer: If you can help your customers in other ways, it can do much for your reputation.
A short professional explainer video can do the work for you here.
3. Monitor your social mentions

That someone hasn't reached out to you with a complaint is not an indication that they're wholly satisfied with your company. Someone with a grievance is just as likely — perhaps more likely — to air it via social media these days, as it will get the issue more attention and potentially damage the brand (offering a degree of retribution). Due to this, you need to be proactive in monitoring what people say about you through social media.
You need to stay active on social media for various reasons, of course. People will talk about you regardless, and it will seem odd if you're absent, and it provides invaluable sales opportunities — note that eCommerce systems now support social media selling across the board, whether natively like Shopify or through modules like Prestashop (as our review at ecommerce platforms explains), all because social channels can drive a lot of revenue.
But when you're on Twitter or Facebook, you need to do more than just promote your brand. You also need to address negative comments, get critics back on your side through resolving their issues, and highlight positive comments to show your appreciation for those who support you. As for how you can find comments, this is where services like mention enter the picture.
4. Implement a loyalty scheme to your customer service
If you're going to keep customers coming back, you need to show that you legitimately value their custom more than that of new customers. Many companies make the mistake of offering all their best deals to new customers, leading their loyal customers (who tend to spend the most) to feel slighted and look elsewhere.
By putting a Customer Loyalty scheme in place to provide varied incentives to people who've stuck with you over many months (or even years), you can prove your commitment to long-term service. You also make it clear that you're not trying to trick anyone into a one-time purchase (something that often happens). Your brand is serious, and you're determined to keep improving.
5. Enhance your email support with video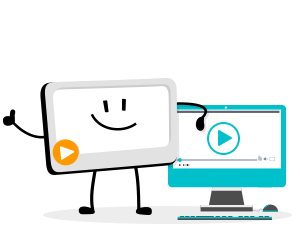 Lastly, it's essential to acknowledge the importance of email support. When someone takes the time to reach out to you via email, it's a sure sign that they have a serious issue; perhaps there's a problem with their order, or maybe they just need some extensive assistance with using or configuring a product they've purchased from you.
In addition to investing in support assistance with the knowledge and consistency to efficiently address and resolve customer issues, you should make good use of your aforementioned video resources. If someone wants more detailed information about how your operation works (if you manufacture your products, for instance, they might be curious about how that's done), you can simply embed a creative explainer video that neatly illustrates it, saving you time and achieving a better result.
Author's Bio

Rodney Laws is an eCommerce platform specialist and online business consultant. He's worked in the eCommerce industry for nearly two decades, helping brands big and small achieve their business goals. For more tips and advice, reach out to Rodney on Twitter @EcomPlatformsio.