How to Create Explainer Videos That Motivate Coworkers
A company's success begins internally. From product development to marketing and customer service, there are various moving parts that need to be in sync for business operations to run smoothly.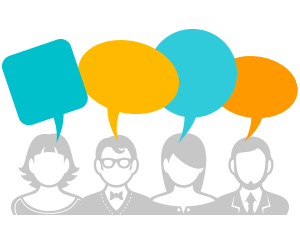 If there's a lack of alignment between (and within) departments, this disconnect impacts product quality, customer experience, and brand reputation. But it also takes a toll on your team's motivation to put in their best work day-in and day-out.
From a company-wide perspective, employees that feel motivated in their role contribute to a 21% increase in a business's profitability. Employees that aren't motivated, on the other hand, could cost your business upwards of $550 billion each year.

While you can and should leverage explainer videos as part of your sales strategy, there's also an opportunity to use these videos to motivate coworkers.
In this guide, we'll share a few important types of explainer videos that every business needs and three tips for producing these videos.
Explainer Videos That Keep Your Team Engaged
Explainer videos can bridge any topic, so you have plenty of options when it comes to content creation. Even still, you don't have unlimited time and resources to make every video you want to right now.
That's why we're sharing a few recommendations for explainer videos that can be distributed to prospective, new, and current employees at your company and even motivate Coworkers.
Specifically, these recommendations center on your company's story, culture, onboarding process, and updates to protocol.
1. A company story video
Filming a company story video is a great way to commemorate when, why, and how your company was founded. Not only could this type of video be useful during recruitment, it could also be distributed to new hires during onboarding.
This type of content is evergreen content that can motivate Coworkers. Especially ​when their motivation is waning, and they want to be reminded why they joined your company in the first place.
2. A company culture video
Company culture videos bring viewers up to speed on where the company and its employees stand now. By making this type of content, you give prospective and new hires that extra motivational boost they need to be excited about working at your company.
3. An onboarding video
To make a new hire's transition into your company's culture as seamless as possible, it's a good idea to create onboarding videos.
During onboarding, your new hires are receiving and processing a lot of information at the same time. A 30-90 second explainer video gives them a condensed overview of what they can expect throughout this process.
4. New protocol, products, and services videos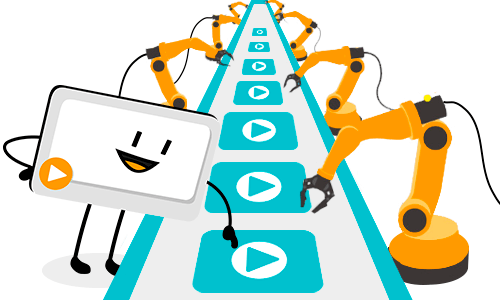 To make sure that every employee in your company is on the same page, we recommend creating explainer videos that update your coworkers on new changes to protocol, products, and services.
The more informed and involved your coworkers are in your company, the more motivated they will likely be to consistently put forth their best work.
The more informed and involved your colleagues are in your organization, the easier it is to motivate coworkers. They are likely to consistently put forth their best work.
3 Tips For Producing Motivational Explainer Videos
Tip #1: Level up your video production skills
A fully staffed in-house video production team is wonderful to have but not a requirement for filming and editing great quality explainer videos.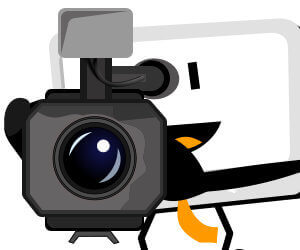 To start filming content right now, all that you need is a basic understanding of the technical side of video production — i.e., filming gear, audio, lighting, how to add music to a video, etc. — as well as a few select pieces of gear.
Take some time to research the market before making any new purchases. This can help you avoid investing in, let's say, a camera stabilizer that is too difficult to operate or expensive camera gear that ends up collecting dust on your shelf.
You might discover that you only really need a video camera, a tripod, and software like Final Cut Pro or Adobe Premiere Pro to create explainer videos. Or, alternatively, a smartphone with a few select filming accessories.
To make your explainer videos even more engaging, you can also use music software to create your own studio-quality sounds to play in the background.
Tip #2: Involve your coworkers in pre-production planning
Explainer videos are created to serve a purpose. When your purpose is to motivate coworkers, the first thing you should do is find out what is causing them to feel unmotivated in the first place.
Involve your coworkers in the content creation process and ask them directly what issues they've noticed, what their pain points are, and if there are any gaps in internal communication.
Maybe your coworkers in the marketing department want to be more knowledgeable about what new project the product team is taking on. Maybe they would benefit from an explainer video that teaches or reminds them how to use a specific software.
What matters here is that you identify the gaps in internal communication and create explainer videos that bridge these gaps.
Tip #3: Create evergreen explainer videos
A main reason why we recommend creating explainer videos about your company's background and culture is that these topics will always be relevant to your coworkers.
Instead of making a new explainer video for each new onboarding phase, you have a pre-made video that you can share to new recruits whenever you need to. This saves you the trouble of spending more time and resources to plan, produce, and share excessive video content.
When you create evergreen content, viewers have the ability to reuse or revisit these videos anytime in the near or distant future.
Even still, not every video you create can fall into the category of evergreen content. Some explainer videos — like new protocol, products, and services videos — will be hyper specific and subject to change.
Whatever the case might be, it's important to keep your coworkers' experiences and pain points in mind when planning and producing new content to motivate them.

Author's Bio

Mackenzie is a copywriter at Soundstripe, a music licensing company that provides filmmakers, creators, and advertisers with documentary music, among other genres.