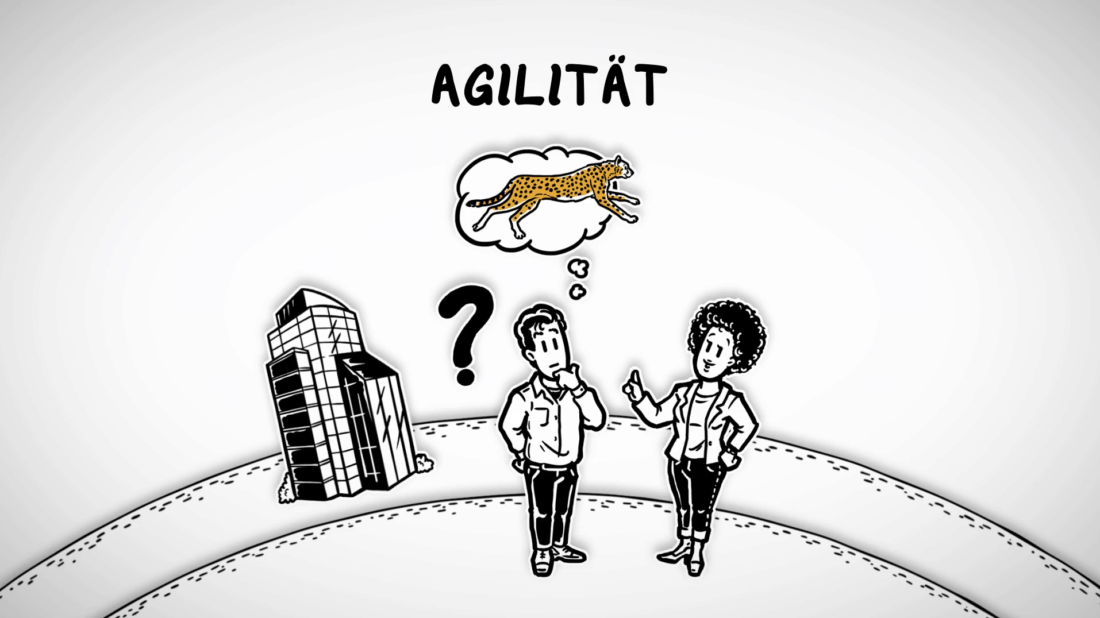 8th December 2021
12 min read
How Videos Can Help You Generate More Leads During A Cold Outreach
Videos are an excellent way of generating more leads from cold outreach. After all, they provide you with an average open rate of 18 percent, which is a substantial percentage for your cold outreach. 
Compared to emails, blogs, and other forms of marketing, 54 percent of respondents want to see more video content from firms. It's only fitting that we indulge them.
This article will discuss ways you can utilize videos to boost your lead generation during a cold outreach. Let's get to it.
1. Craft Engaging Email Copy
You can't just go around dropping links to your videos in an email and expect your audience to take action. Here are a few ways to write an engaging email copy that pushes your subscribers to open and respond to your video.
The Subject Line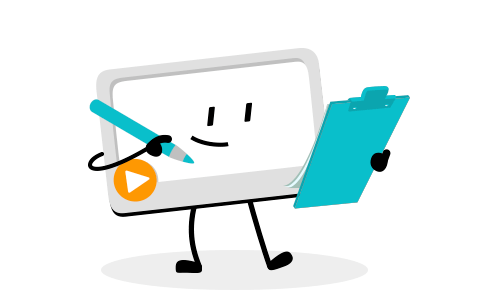 Keep the subject line of your sales email short and intriguing especially with a cold outreach. Remember that your purpose is to make your readers curious. Here are some examples:
• Jerry suggested I get in touch
• Inspiration for [thing that is essential to them]
• Need help for [Recent trigger event]?
• Have you considered [idea / suggestion]?
Also, to avoid being sent into the email spam folder, avoid spammy words like unique, discount, and exciting when crafting your subject lines. They pose a lot of red flags – both to your readers and their email providers.
Opening Line
Your opening line has to hook your audience, or else you'll lose them from the get-go. Avoid beginning your email copy with "Hi, my name is [your name here]."
Instead, start with something more conversational like:
•[Mutual connection] recommended… 
• I noticed that we were both…
• I enjoyed your article on…
• Congratulations on the ….
These opening lines imply that you have something in common with the recipient, whether it's a mutual connection, an event you attended together, or even a piece of their content that you read. Establishing that connection will make your reader want to know more and convince them to open your email.
Call To Action
Every email should have a clear and engaging CTA that will prompt readers to take action. Here are a few ideas to help you get more people to respond to your CTAs:
• Use action words like "Get the Discount," "Reserve Your Spot," "Try for Free," and so on.
• Your CTA wording should be no more than two to three words long. You can use up to five or six if necessary, but not more.
• Use phrases that express urgency, such as "Now is the time to shop!" "Only three spots left! "60% Off ", "For a Limited Time Only"
Here's an example of a video call to action from simpleshow:
This kind of language in your emails will grab your readers' attention and inspire them to take action.
You can take the other route and not include a CTA at all. You may argue that the play button in the video above is interesting enough to get users to click. However, if you opt for this option, you have to make sure you give your recipients a compelling reason to click Play in the first place.
Closing and Signature
A compelling conclusion to your sales email provides a clear path to action for recipients. To elicit a decisive response, try closing with one of the following questions:
• Do you have time on your schedule to talk about it?
• Have you given the proposal any extra thought?
• Do you have ten minutes tomorrow to catch up?
A sales email signature should not be cliché or try too hard to impress. Instead, keep it brief, concise, and consistent with your brand. 
You can include your email address if you need to be contacted and a link to your preferred online profile. Avoid images and quotes at all costs.
Here's an example of a great cold outreach that can generate more leads to your business: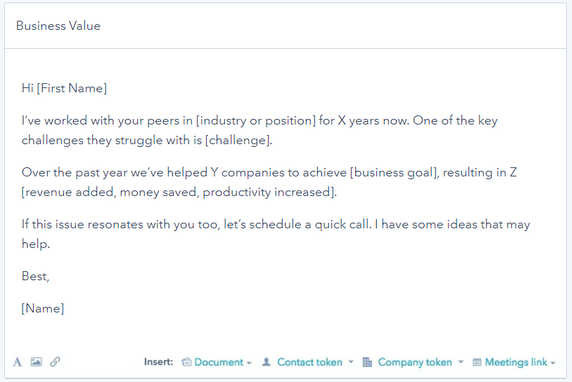 You can see that the template thrives on providing value to the reader by touching on how the company itself has benefited others in the readers' niche. 
With all that said, here's a great example of copy from a video cold outreach email that engages:

Notice that the subject line is clear and compelling. The recipient is more likely to click on the email because the subject line states they've had a previous "interaction," not necessarily a one-on-one interaction, on LinkedIn. 
In this case, the sender took the second route with the CTA. There's no explicit CTA, just the big Play button on the video. However, the sender provides a compelling reason for the recipient to click on the button. If they watch the video, they can "increase reply rates to above 20% on average."
2. Include an Eye-Catching Thumbnail
The video thumbnail is one of the first things your recipient will see. So, you have to make sure that it's interesting enough for them to play the video. Your recipient should get an idea of what the video is about just by looking at the thumbnail.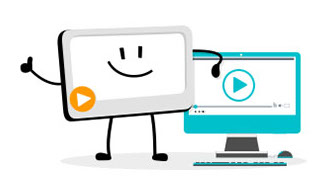 Numerous free internet programs make creating a personalized thumbnail for your videos simple. For example, Canva allows you to generate video thumbnail pictures for a variety of video platforms like this:
Canva makes it simple to produce a great-looking thumbnail with just a few clicks, thanks to its library of hundreds of distinct styles. Here's how:
• Select a design template
• Upload your image or add banners, icons, and other graphic components
• Select your fonts and enter your text
• Pick your colors
You can now download your thumbnail and post it to your preferred video platform. There are many options for inserting a thumbnail into your email copy. You can use a static image, a GIF, an automated play button, or even create a faux video with CSS animation.
3. A/B Test Your Sales Script Before
It's always wise to create your videos with several scripts and then send them to different groups of people. You want to see which script performs the best so you can use that in your subsequent cold reach campaigns for better results.
But how can you create a video sales script in the first place? You have to know that creating a video without one simply leaves your video unstructured and a waste of value. For instance, if you create a video on the importance of CRM and it turns out your video is on CRM techniques, you aren't offering what you promised. 
That said, here's a sample script you can go by for your videos:
•Introduce yourself and express your gratitude for their time
• Describe the issue you've discovered and want to resolve
• Establish your authority
• Tell anecdotes of how you've dealt with similar issues in the past
• Make a solid and straightforward call to action
You can watch this video for inspiration.
Your video needn't be too long. Keep it concise. You want to drive your audience to take action from your message, not drive them away.
4. Use Quality Video Equipment and Tools
You can record videos using a smartphone, but you'll need to use a professional camera if you want professional videos. Other essential equipment you'll need include a tripod (Gimbal Stabilizer), microphone, lighting, and video editing software.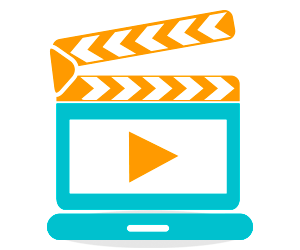 If you're just starting, a quality camcorder can suffice, but we recommend going for DSLR or mirrorless cameras if you have the funds. For microphones, lapel and USB microphones are a good choice. However, if you don't want to wear microphone gear while recording, go for a condenser or shotgun microphone. 
A softbox or umbrella light should do the trick when it comes to lighting, but ring lights are also a good choice, especially if you're in a dimly-lighted room. Finally, post-production is just as important as your video hardware. While you need to spend thousands of dollars on a video editing software, you can also create short explainer videos using simpleshow video maker. The simpleshow video maker helps you organize your storyline, choose from thousands of original illustrations, and generate short videos using the AI-based Explainer Engine.
5. Track Video Metrics
Tracking your video metrics helps you keep tabs on what's working and what's not. For instance, viewing data can help you know which videos your audience likes and which ones they don't seem too keen on. That can help you determine what videos to use in your subsequent cold outreach campaigns for better results.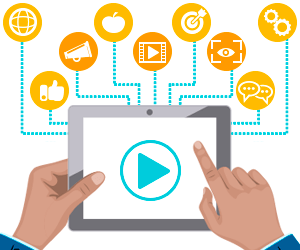 There are three key metrics you should watch out for, in particular. 
The view count helps you know if your thumbnail is compelling enough. 
Monitoring your average watch time helps you know how long viewers spend on your video. It will give you insights into whether you should use long or short videos. 
Finally, your click-through rate gives you an idea of how your CTAs perform and whether you should make any tweaks. If you're hosting videos on YouTube and linking back to them in your emails, Google Analytics is an excellent platform to use. Learn how to use Google Analytics for video monitoring in this post.  You can also consider tools like Vimeo, Talkwalker, Vidalytics, and Cincopa.
In Closing
Videos are an excellent medium to generate more leads during a cold outreach. However, it also entails understanding how to communicate video content to decision-makers and selecting the appropriate channel.
When you effectively combine video content with email marketing techniques, you're bound to have a potent lead-generation tool at your disposal.
Author Bio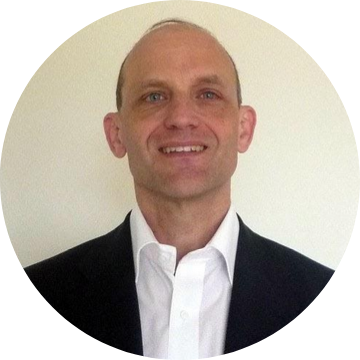 Martin Gessner is the Founder of Focus on Force. He has spent over ten years working in various Salesforce roles, including business analyst, project manager, consultant, and solutions architect. Along the way, he has earned twelve certifications, published "The Salesforce Career Playbook", and helped Salesforce professionals learn more about Salesforce, develop their careers and prepare for certifications.