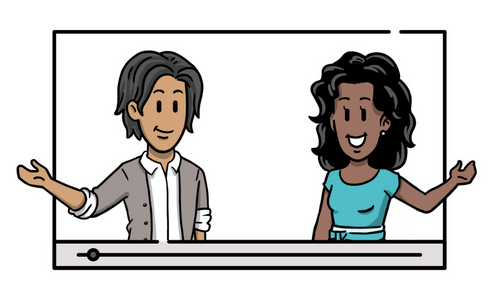 25th July 2018
6 min read
5 Ways SaaS Companies Use Videos
SaaS, or software-as-a-service, is a method of software delivery that allows data to be accessed from any device with an Internet connection and web browser. SaaS solutions offer a viable software option for many businesses, as opposed to traditional on-location installations. The software is licensed on a subscription basis and is centrally hosted.
SaaS companies need to make sure that their users stay informed and engaged. This is successfully achieved by making use of video to connect with customers, train them and even convert potential customers.
5 Ways SaaS Companies Use Videos
 1. Video Marketing
SaaS companies can make a good impression with video marketing, seeing that they are online based companies. Video marketing gives new website visitors a quick glimpse of what the SaaS company has to offer, by showing exactly what the product does. It is not a lengthy article that will catch a potential customer's attention, but a visual preview of the interface, the software, and its benefits. Effective videos give potential customers certainty that they're choosing the right tool to solve their problem and that they're minimizing their risks.
In addition, potential customers usually seek reviews before they commit to a purchase. An excellent way to build trust is to involve enthusiastic users of the software on offer. Having customers write reviews to help market your product and featuring customers in video interviews talking about the software service and its benefits are sure ways in which SaaS companies engage potential customers. In video interviews, loyal customers can endorse the SaaS business by sharing personal insights. They may also share useful tips and illustrate exactly how the software in question benefitted them. Social proof builds buyer confidence.
2. Explainer Videos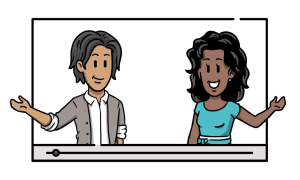 SaaS companies work with virtual products that often have complex functions. Consequently, SaaS companies face 2 main obstacles: The nature of the product, software, means that there is no physical product to promote. Also, complicated technical information needs to be explained in a simple, clear way. These obstacles are easily overcome by using explainer video material. Video enables SaaS companies to take abstract concepts and explain them clearly, with demonstrations, illustrations, and even animations that bring explanations to life. By means of demos, screencasts, and animations, SaaS companies create captivating video material to engage their customers.
Take, for example, demo videos – these help customers to visualize how the software works. It can also help give potential customers a peek at the software by explaining and demonstrating the product's unique features.
3. Storytelling
A video that tells a story appeals to customers and can be highly effective. One way SaaS companies use storytelling is to create a video about a quest to find the solution to a problem – naturally their software product provides that solution. Another approach is to share the company story. In less than two minutes, one can tell how and why a company was founded, as well as a number of anecdotes involving the product. Videos tell stories in ways that engage multiple senses at once. Therefore, video is more likely to engage customers and establish connections with them. Customers that feel connected to a SaaS company are more likely to use their software.
4. Training Programs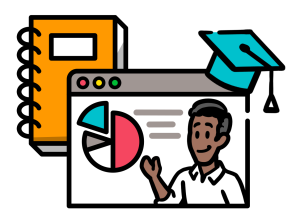 SaaS companies use video to create training programs for their software. Training videos provide customers with a good understanding of how the software solves a problem, as video is the ideal medium to demonstrate a product by showing the tool in action. Video screencasts (i.e. screen shots of the software screen) are also used very effectively for training purposes as it helps clarify how the product works best.
Moreover, SaaS applications are often updated more frequently than traditional software, in many cases on a weekly or monthly basis. Video material about the new releases of software does not only keep customers up to date, but also keeps them excited about the product and keeps them more connected to what the company is doing. SaaS companies use video to show their customers how the new release will benefit them and how the new features function.
5. FAQ
SaaS companies benefit from using support videos that demonstrate how problems that users may encounter could easily be sorted out. Video is a refreshing resource that allows for practical demonstrations to answer customers' questions. Our brains process visual information much more quickly than text, and will better capture customers' attention, as opposed to lengthy pieces of writing. It provides consumers with an immediate answer. SaaS companies take common questions about their product and answer them with demo videos. By making video answers to FAQ's, they build a repository of short support videos. After all, complicated information about software may be easier to follow if it is given in the form of a video, as opposed to a text format.
Videos are dynamic, powerful tools that help reach customers on an ongoing basis. It seems that, before reading text, people first watch an available video. Only if the video is engaging, may they be drawn in to read more about the topic. Video is effectively used by SaaS companies to connect, educate and inspire confidence in their software products.