simpleshow video maker automatically adds diverse characters to your video
The world is diverse. If you look around you, you will see a variety of different body shapes, heights, and skin tones. You'll see young people, old people and people with different abilities. You'll see people with different gender identities, sexual orientations, and families of all shapes and sizes.
We all have our differences and that's the magic.
Diversity makes the world go round. At simpleshow, diversity is just part of who we are. Our team is a colorful mix of people from all over the world and we don't care what our employees look like, what religion they belong to or what sexual orientation they have. And it's amazing.
What's new in simpleshow video maker?
We are excited to announce that simpleshow video maker can now automatically add more diversity to the character illustrations with the power of artificial intelligence.
It's easy. You can quickly and easily add different skin tones and hair colors to your videos with just the click of a button. Our illustration database has also been expanded to include different body types, religions, ages, sexual orientation, abilities, and more.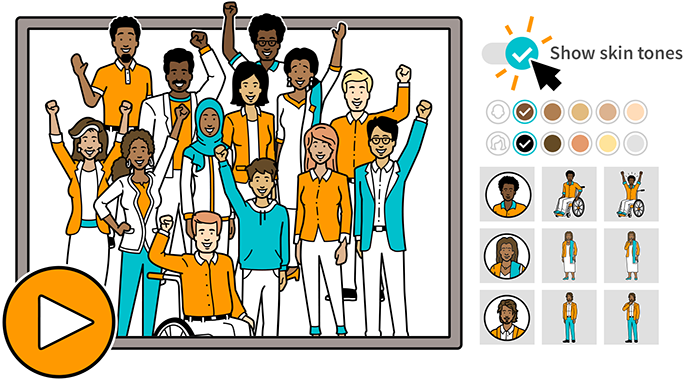 You will find the new toggle button "Show skin tones" in the settings. Now you can choose from a selection of different skin tones. You will also find several hair colors that you can apply to your characters. In addition to these selections, the characters are no longer differentiated between women and men. Instead, there are options to choose either, business or casual. This ensures that men and women equally represent certain job roles.
Diversity has always been important to us and we are constantly improving the functionality and capabilities of simpleshow video maker. The addition of color to the platform opened a whole new world of possibilities. There are countless things that make people different and while it would be close to impossible to capture everything, these updates will bring a better representation of diversity to your videos while keeping the tool simple and easy to use.
Engage your audience with diverse characters in simpleshow video maker
Most of us realize the importance of diversity – but how does it change your communication? When you add diversity to your videos, it has a strong impact on how the message is received.
You will be able to reach your target audience on a more personal level.
Your viewers will relate to the characters in the story.
The message will resonate better, improving how people retain the information.
What does more diversity mean for you?
Storytelling is a key element in simpleshow video maker. We believe (and science proves) that we retain complex messages better when they are linked to a story. And a good story contains characters, of course. Imagine how much more your audience will relate to your message (and your characters), when they see themselves represented in your video.
Chances are, your team and your company is also made up of a wonderful, diverse group of people. Let's talk about some more scientific findings at this point:
Studies have shown that companies with high diversity are more successful. Diversity brings different perspectives and can therefore have a direct, positive impact on creative work and thought processes. The diversity of your employees is basically like a treasure chest!. Diversity also improves the loyalty of your employees in the long term and promotes a positive working atmosphere. Prioritizing diversity and inclusion is critical for your external image as a strong company that is innovative and stands up against discrimination.
Create your next video in simpleshow video maker now and discover the mix of different body shapes, sizes, religions, abilities, and skin tones. Find out how well your viewers can identify with the video.
This is more than just a feature launch, it's the right thing to do. As always, please let us know if there's anything we can improve!