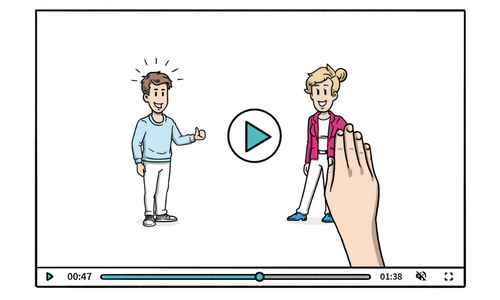 8th January 2020
5 min read
How to find employees with creative recruiting videos
It is no surprise that companies that use videos in the recruiting process receive far more applications than those who do not make use of videos. People want to know what they let themselves in for and what better way to know if they can see a video about the work environment.
If you want to ensure that your company attracts the right type of people for the right kind of job, those that will fit in perfectly with your company, recruiting videos is the way to go. It is only with recruiting videos that you will effectively showcase your company for potential employees to get a feel for what you are all about and what they can expect by working for your company. Not even a few hours in the office may show prospects what an effective video can reveal to them!
What recruiting videos need to show
Recruiting videos give companies the perfect opportunity to show potential employees what company culture is like and what a typical day at the office involves. They help applicants to decide if they will fit into the structure of your company. Candidates that may not be the right fit can be eliminated even before they touch an application form! Recruiting videos need to provide recruits with an authentic feel of what it may be like to work for you. A few requirements need attention in the creation of a recruitment video that will help you to find the right employees. Company culture, employee testimonials and benefits of working for your company are the most crucial to include in a recruiting video. Watch our video to see what else is essential.
Types of recruiting videos
There are a number of options available to you. Recruiting videos can be serious or light-hearted, depending on your company culture. A company with a fun culture can, of course, benefit from a fun, light-hearted, even humorous video. Some company recruiting videos lean themselves to the creation of a more heartfelt approach, especially if it is a company that deals with emotional / humanitarian issues. Employee testimonial videos as well as story videos are very effective recruiting videos.
Story options to consider:
→ Tell the story of how an employee became involved in your company and what it is like to work for the company. 
→ Tell the story of why an employee joined your company and whether your company came up to his / her expectations.
→ Tell an employee story that reveals how he / she experiences working for your company on a day to day basis.
→ Tell the story of the company's founder – his / her goals and vision for the company and relationships with employees.

Interview options to consider:
→ Include interviews with employees, in their work environment, and ask them what is expected of them and what they like about their jobs. 
→ Ask new employees what life is really like working for your company. 
→ Ask long-term employees what they like most about working at your company.  
→ Do not overlook the power of animation in recruiting videos! Animated elements can even be combined with real footage. For example, real-life interviews can be intertwined with animation to show your expectations and showcase your company culture to potential recruits. (I.e. rather than having only interviews with employees, include animation as well.) 
A few other ideas:
• Follow an employee to show a day-in-the-life of a typical employee at your company.
• Make a documentary-style video about the company and the job opportunity on offer.
• Introduce company bosses in the recruiting video and show them to be approachable. 
• Present the recruiting video as a video diary to show exactly what a recruit can expect on the job.
A recruiting video is almost like a sales video or a promotion video – you promote a job opportunity and expect a target audience to respond. It therefore goes without saying that a recruiting video needs to be created with the target audience in mind! Consider what your target audience may want to know and also be sure to show them why they possibly may want to consider a career with you. Your recruiting video must answer candidates' questions even before they have the chance to ask them! With effective recruiting videos you can show the exciting job opportunities available at your company and find the right employees!