9th March 2022
7 min read
6 B2B Brands That Made Boring Products Brilliant with Video
If a picture speaks a thousand words, a video speaks a million — 1.8 million to be precise! A video can even transform the boring into interesting. In these times of overwhelming data around us when every business right from a start-up to an established one is vying for a customer's slice of attention; videos are the perfect tools to grab the attention of the consumers.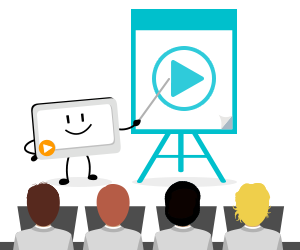 But Why Videos?
According to the Video Marketing Statistics 2022 report by Wyzowl, 86% of businesses use video as a marketing tool and for 81% of marketers, video has helped them directly increase sales. From the customer's point of view, 96% of people have watched an explainer video to learn more about a product or service.
Amidst a deluge of digital information, where attention span is becoming fickle, businesses must continue to grab the eyeballs of their customers. A product promotion strategy that incorporates a blend of high-quality images and videos using a Digital Asset Management solution can help B2B brands drive the message home.
You may ask, why have videos become so immensely popular? If statistically, one minute of a video is equivalent to 1.8 million words, physiologically it is ingrained in us to prefer video over text. 90% of all information that enters the brain is visual and is stored in the respective part responsible for the long-term memory. This makes video easy to remember, quick to understand, and evoking emotions and feelings exponentially better than text.
This has made videos one of the most integral parts of the marketing and communication strategy of all companies with a B2B focus.
While videos can be used for a variety of purposes, the most commonly created types are explainer videos.
How B2B Brands Can Use Videos to Their Advantage

B2B brands should consider the following factors that differentiate them from B2C brands when using videos for their business, marketing, and other communications.
A typical B2B business transaction is between two businesses – for example, one involving a manufacturer and a wholesaler or retailer. So, the emotion of an end customer is not in the picture and the decisions are based more on facts, statistics, and numbers. The basic motives behind the purchase are need, logic, and reason.
The purchase decision revolving around B2B products or services involves many levels of approval and the message must be carefully tailored to appeal to the decision-makers. The buyer persona for a B2B business focuses on the job role of the decision-makers and not their individual preferences and demographics.
A B2B brand focuses on the long-term relationship with the customer and its message must convey expertise more than benefits in the concerned domain.
These factors can sometimes make B2B branding challenging and often boring. Videos come greatly to the rescue in such cases.
Here are some great examples of B2B brands that succeeded in making the boring brilliant.
6 B2B Brands That Made Boring Products Brilliant With Video
1. Epuron
The award-winning 2007 commercial "Mr.W" comes from the clean energy brand Epuron. Traditionally marketing a wind power brand can be challenging but this video builds curiosity through the wacky and unlovable character. In the end, it is revealed that he represents wind power. Peculiar but surely attention-grabbing!
2. Working From
A coworking space WorkingFrom uses character animation in its explainer video to differentiate the brand and make it playful, personable, and novel. The Hoxton Hotel rents its two locations London and Chicago for coworking space and the video does perfect justice.
3. Salesforce
In its video aimed at small businesses, The CRM and cloud solution provider Salesforce used storytelling to make it more interesting. In an entertaining way, the video drives home the point that Karl, a small business owner, benefits from Salesforce's tools.
4. SAP
The software solution company SAP showcases its working culture in this adorable and entertaining video. It features the kids of its employees trying to describe what their parents do and what their usual day at work looks like. A typical product/service video could be monotonous but this video beautifully highlights the brand personality by being innovative and bringing in a human element.
5. Slack
Slack, a messaging app for business uses 3D animation in this cute video filled with animated characters that are colorful and quirky. Though the characters speak gibberish, it succeeds in showcasing in a fun and entertaining way how its products help companies to operate.
6. Caterpillar
A construction and heavy-duty product company can be quite difficult to market. But with innovative content and creative videos, industrial products can also be showcased brilliantly. In this video by Caterpillar, its industrial products are showcased with the help of the popular game by Jenga. Innovative indeed!
Conclusion
While using text and images is also an integral part of marketing and communication strategy for businesses, videos are much more engaging and memorable.
These examples are a testimony to how crucial videos are for businesses, both B2C and B2B. By using a video maker such as simpleshow, B2B brands can communicate their messages effectively and instantly transform their branding.
Author's Bio
Tim Ferguson is a writer and editor of Marketing Digest. He enjoys writing about SEO, content marketing, online reputation management, social media, AI, and Big Data. When he is not writing and editing for Marketing Digest, he spends time learning more about content marketing and getting better at it.