3rd September 2020
In
6 min read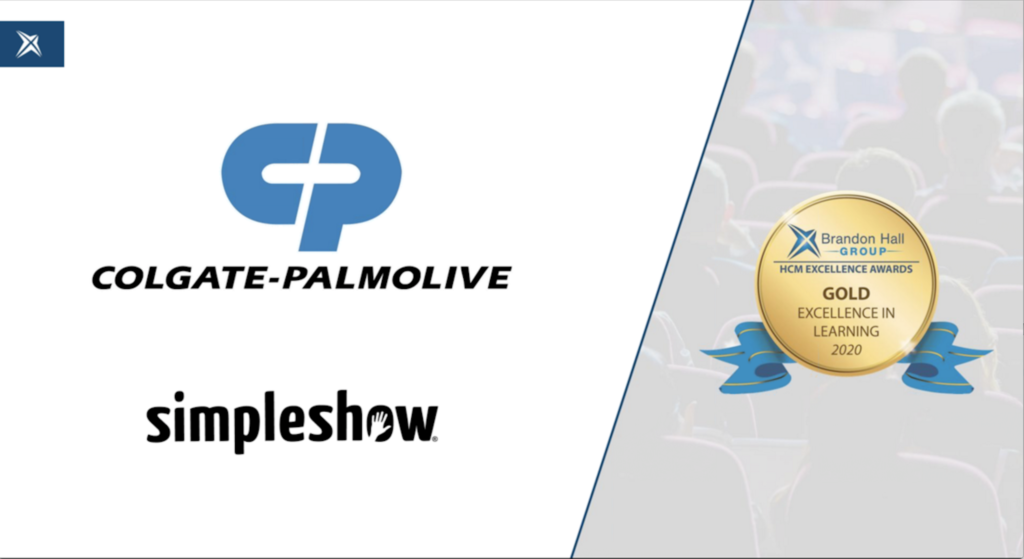 Interactive health and safety e-learning collaboration covering COVID-19 protocol wins gold in the 2020 Brandon Hall Group HCM Excellence in Learning Awards
simpleshow, a leader in innovative custom e-learning interactive courses, in partnership with Colgate-Palmolive, purveyor of globally renowned consumer goods, won a coveted Brandon Hall Group Gold Award for Excellence in the Best Unique or Innovative Learning and Development Program category. 
The winning e-learning course is a custom project with Colgate-Palmolive on the subject of "COVID-19 Health and Safety Best Practices for Returning to the Workplace." The learning experience is designed for Colgate-Palmolive employees who are reentering the workplace after the COVID-19 enforced quarantine. Prioritized for Field Sales Representatives across 3 business units (EltaMD, PCA Skin, and Colgate Oral Pharmaceuticals), the course gives them the knowledge and confidence they need to abide by the best health and safety practices while at work and when visiting customer offices. 
"It was important for us to make sure our sales team was comfortable, and also that our clients could be assured we were doing our part to implement and maintain safety procedures before returning to work. simpleshow worked with our team to create an experience that did just that—all while addressing the gaps and needs that were unique for our business. simpleshow was able to focus on exactly what we Colgate needed to say, which was both complex and important material," says Mark Evans, Director, Global Commercial Learning at Colgate-Palmolive. 
The structure of the course starts broad, including a general understanding of COVID-19, and then drills down into unique profession protocols as the learner progresses through the course. The interactive project is a diverse and engaging learning experience that incorporates video, text, feedback, and a final quiz. Upon passing the assessment, users are presented with a customized Colgate Health and Safety certification badge.  
To address the unique challenge of maintaining current information on COVID-19 continues, the editable Microsoft Word files were provided by simpleshow to the Colgate-Palmolive team so they can maintain the latest information within the resources section of the program and make necessary updates in real-time.
"Organizations around the world highly value Brandon Hall Group Excellence Awards – so much so that we received a record number of applications in the middle of a global pandemic," said Rachel Cooke, Brandon Hall Group COO, and leader of the HCM Excellence Awards Program. "The awards provide valuable recognition and validation of best practices in all areas of HCM at a time when they have never been more important to both employers and employees." Award entries were evaluated by a panel of veteran, independent senior industry experts, Brandon Hall Group analysts and executives based upon the following criteria: fit the need, design of the program, functionality, innovation and overall measurable benefits.  
"The Excellence Awards serve the critical function of reinforcing the essential business benefit of creating great experiences for candidates and employees," Brandon Hall Group CEO Mike Cooke said. "All award winners must demonstrate that their HCM programs drive bottom-line business results. That's what sets our awards program apart from all others."
The full list of 2020 Human Capital Management winners is available at https://awards-list.com/brandon-hall-excellence-awards/. 
About simpleshow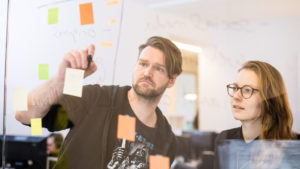 About simpleshow: simpleshow is the platform for digital products and services around explainer videos. Guided by the mission to make modern communication simple and concise, the market leader enables everyone to explain a complex topic very simply. The artificial intelligence of the SaaS solution simpleshow video maker supports the user in creating a professional explainer video with just a few clicks. A magic that is based on the experience of tens of thousands of video and eLearning productions in over 50 languages. Behind this stand employees in offices in Berlin, Luxembourg, London, Zurich, Miami, Singapore, Hong Kong and Tokyo. Large international companies value simpleshow as a partner for simple explanations.
About Colgate-Palmolive (NYSE: CL)
Colgate-Palmolive is a leading global consumer products company, focused on Oral Care, Personal Care, Home Care, and Pet Nutrition. With more than 34,000 people and its products sold in over 200 countries and territories, Colgate is known for household names such as Colgate, Palmolive, elmex, Tom's of Maine, Hello, Sorriso, Speed Stick, Lady Speed Stick, Softsoap, Irish Spring, Protex, Sanex, Filorga, EltaMD, PCA Skin, Ajax, Axion, Fabuloso, Soupline, and Suavitel, as well as Hill's Science Diet and Hill's Prescription Diet. The Company is also recognized for its leadership and innovation in promoting environmental sustainability and community wellbeing, including its achievements in saving water, reducing waste, promoting recyclability, and improving the oral health of children through its Bright Smiles, Bright Futures program, which has reached more than one billion children since 1991. For more information about Colgate's global business and how the Company is building a future to smile about, visit http://www.colgatepalmolive.com. 
About Brandon Hall Group
Brandon Hall Group is an HCM research and advisory services firm that provides insights around key performance areas, including Learning and Development, Talent Management, Leadership Development, Talent Acquisition, and HR/Workforce Management. With more than 10,000 clients globally and 25 years of delivering world-class research and advisory services, Brandon Hall Group is focused on developing research that drives performance in emerging and large organizations and provides strategic insights for executives and practitioners responsible for growth and business results. Our mission: Empower excellence in organizations around the world through our research and tools each and every day.