16th February 2015
In
2 min read
Plagarius Award: Three boos for the digital copycats of simpleshow, the explanation experts™
Since 1977, the tongue-in-cheek Plagarius award has been granted by the nonprofit of the same name, singling out the creators and distributors of particularly shameless imitations. For the first time this year, the trophy has been bestowed upon copycats of digital products. What was the occasion? A competitor of simpleshow, the market leader in explainer videos, was claiming credit for another company's hard work.
Not only did the India-based laureates copy the German company's product, they even stuck their own logo on an original simpleshow clip. They proudly presented the result to their potential customers and even showed it off to the originators themselves. For their part, simpleshow wasted no time in defending themselves against this audacious behaviour.
Jens Schmelzle, one of simpleshow's co-founders, explains the importance of fighting intellectual property theft: "In a fast-moving market in which simpleshow played a pioneering role, competition does help to fuel innovation and advancement. Still, dishonest competition must be stopped because product piracy ultimately hurts the customers above all."
The "winners" of Plagarius 2015 were announced at an international press conference on 13 February at the Ambiente expo in Frankfurt, the world's largest consumer goods trade fair.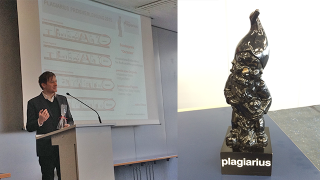 About simpleshow:
simpleshow, the market leader in explainer videos, has produced several thousand clips to date in more than 50 languages worldwide. The simpleshow team explains even the most elaborate topics, from business processes and company policies to product features and training materials, accessibly and concisely. The simpleshow academy's coaches ensure that all global employees receive thorough initial and continuing training and also train managers and communications professionals in the art of a simple explanation. Thanks to its structured, scalable production process, simpleshow can guarantee consistently high quality – with an excellent reception, as shown by a customer survey that demonstrated an unheard of 91% customer satisfaction rate with simpleshow explainer videos (Nov 2013). simpleshow has more than 100 employees based in Berlin, Stuttgart, Luxembourg, Miami, Tokyo, Singapore, Hong Kong and London, who each put their minds, hearts and hands into their daily work.
Press contact:
Susanne Schmidt
Tel.: +352 20 21 00 12 24
pr.int@simpleshow.com