8th December 2015
1 min read
Toku-san released as a series of LINE stickers!
An award-winning character we created for the Tokugawa Art Museum has been released as a new sticker on the popular free messaging service LINE.
Check it out: https://store.line.me/stickershop/product/1209229/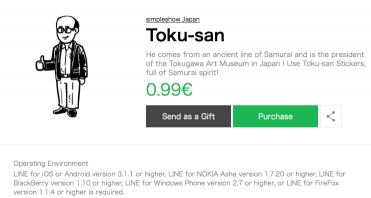 Who is Toku-san?
He is a character who appears in an explainer video we created for the Tokugawa Art Museum in Japan. He is a descendent of Shogun Ieyasu Tokugawa from the 22nd generation Yoshitaka Tokugawa. He's also the current president of the popular Tokugawa Museum; even finding time to pose for pictures with every one of the museum's guests before they enter!