4 tips for better remote communication with your team
Remote work has a fair share of positive aspects, but it has its own set of potential pitfalls as well. A number of difficulties in working with remote employees arise from the lack of constant interaction and the peculiarities of remote communication. To prevent your team, department, and organization from being less productive, it's important to adjust the way remote team members interact with each other.
In this article, let's explore four simple ways to adapt your communication approaches so that remote team members can work cohesively and efficiently. 
Organize daily communication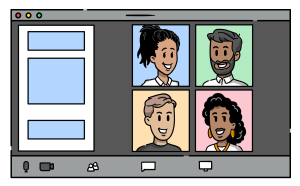 Whenever and wherever possible, this communication should be one-on-one and can have boosted engagement in video format with a picture, such as video calls. Your team should be able to see their leader, and the leader should be able to see the team. It's preferable to make video calls consistently, but also not to overdo it. It's meant to be a touch base and check in on the state of the team, as well as to address any urgent topics or needs. The purpose of such daily video calls is very simple: to set plans and provide the feedback and resources that your team needs.
Use specific channels for communication
It is important for all employees to use the same remote communication channels. Having one shared platform is very important, because if you use different platforms for multiple teams, the interaction between remote teams will quickly be divided. After all, it's the equivalent to put teams in different offices and not let them interact with one another. You can use platforms such as Microsoft Teams, Slack, Zoom, or alternatives to zoom such as Google Team Hangouts. In addition to those, VoIP phone systems are a common choice for remote teams who have the need to take frequent calls, securely exchange documents virtually or conduct video conferences. Also, simpleshow video maker will help you to achieve effective communication by summarizing company news, updates, announcements, and other topics in short and engaging video that is easily shareable. 
Manage expectations
Help your team understand what are their duties, and set realistic expectations for their work. Prepare yourself and your team for effective work by clearly describing certain tasks and the reasons for completing them, as well as ensuring that everyone on your team understands how you measure results. 
Stay flexible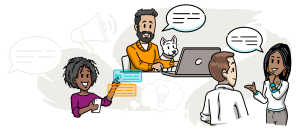 When you're working remotely, you'll need to reconsider your approach to productivity. Pivot your focus from  the traditional 8-hour workday, and focus on efficiency. Standard work hours and days no longer exist for many teams. Instead, put your faith in your team and give them the flexibility and independence to plan their days so they can keep up with their workload and remain productive. 
Bottom line
Remote communication and tracking results are just as important as trusting your employees. So, to avoid being a strict boss and demanding constant reports from your employees, you can use simpleshow video maker, which will help you create your explainer video guides with useful information for the better performance of your employees.
Author's Bio
Helen Wilson is a professional content writer at WriteAnyPapers. Her main spheres of specialization are HR and Business. She studies topics about psychology and health, and also she is good at how to be a good debater.