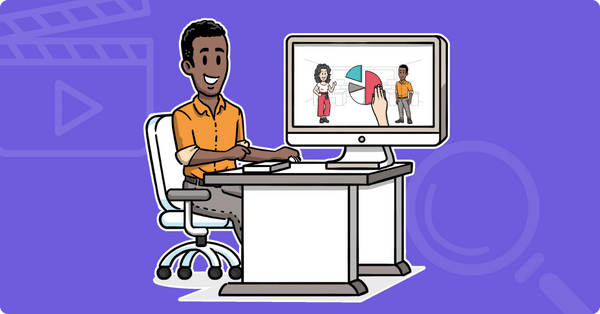 27th March 2017
4 min read
Springing forward with the newest version of simpleshow
Introducing (drum roll please)…options (we've got them!) We changed our model to cater to your lingual, personal, educational, or professional needs. For our German speaking friends, say 'hallo' to our German version of mysimpleshow – text can now be inputted in German. Otherwise, choose from new account types in either language setting of mysimpleshow, each with different features: free, fun, business, pro, and enterprise.
Free
The ultimate question is answered – of course there is still a free version of mysimpleshow. But now, you can choose the language you want to use it in 🙂
Character figure sets are an exciting new feature here; you'll be able to get in touch with your character's emotional side, and use those various expressions in your video. Also, feel free to download and share your video as an MP4 file with your friends and family, or upload your video to YouTube.
Fun
You'll get all the perks of the free version under this account type, plus more new features! Along with multiple character figure sets, scribble effects are included, and will make your video even more professional. Using this feature, you can add more scribbles that enhance your message, without adding more keywords 🙂 Make your video stand out with some more fun and helpful features: scribble colors and subtitles.
Let's talk audio: the ability to record or upload your own voiceovers is included in the Fun account, and you can also choose from two different music tracks. 
Business
Want to use your video for your business? This is the account for you! Commercial rights come with the business account, and emitting the mysimpleshow watermark is possible. HD download capability as well as uploading your own background music are just a few more features that will enhance the quality of your video.
We'd also like to introduce the scribble gallery – you'll have more choices in regards to images provided by the tool, a gallery of images to be exact, so you'll always be able to find what you're looking for. And if you realize you really did prefer your main character being a dog over a cat, use the version history feature to simply and quickly change your "meow's" back to "woof's."
Of course, you'll enjoy all of the benefits the Fun account has to offer; plus customizable closing frames and access to additional character sets, automated voiceover speakers, and background music styles.
Pro
If you're working on teams, the multi-user Pro account is your go-to. Along with everything included in the Business account, you can set team sizes, collaborate and comment on as well as transfer projects within mysimpleshow. The ability to edit subtitles is available, to easily have language versions of your videos. Over 15 different character sets and multiple music styles also come with a Pro subscription.
One of the best features here is having the rights to re-sell your videos, considering you can upload and share custom watermarks and custom closing frames.
Enterprise
The Enterprise account was hand crafted especially for large corporations and customers with larger team sizes. This account includes all of the perks of the Pro account, plus the simpleshow service team to assist you with anything you may need. Contact us for more information on this multi-user account.
Check out our new account types and features by creating a video yourself!