8th November 2012
1 min read
Singapore: simpleshow for National Healthy Lifestyle Campaign
On Saturday, October 27, simpleshow went truly public in Singapore during the launch of the National Healthy Lifestyle Campaign in Singapore's Gardens by the Bay.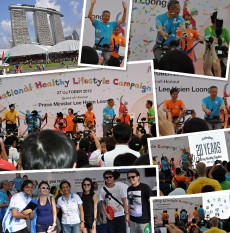 Thousands of people attended the event and a simpleshow introducing the new Singapore Healthy Lifestlye Index was viewed by all including the event's guest of honour, Singapore's Prime Minister Lee Hsien Loong, along with further dignitaries from Singapore's Ministry of Health and Health Promotion Board.
A longer version of the event's simpleshow will soon be made available on Asia's first digital health channel HealthyMeTv, equally launched on Saturday by the Health Promotion Board.
This case shows once more that simpleshow can easily cross cultural and national boundaries and that the simpleshow effect is working all over the globe.
The Health Promotion Board (HPB) provides further Information here.