simpleshow wins a 2019 Communicator Award with interactive video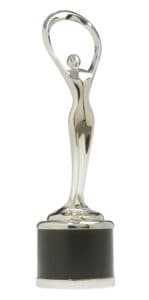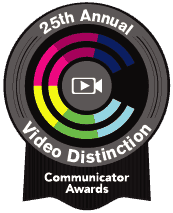 On May 7, 2019, the winners of the 25th Annual Communicator Awards were announced in New York. simpleshow was amongst the winners!
Our interactive video "An Alien X-Mas", which we released for simpleshow customers and partners during the 2018 holiday season, was awarded the "Award of Distinction" in the Branded Content category. The video stands out due to its interactive format where the viewer can determine the course of the video. This format was also recently popularized by the Netflix series "Black Mirror".
This year, more than 6,000 entries from all over the world were submitted to the Communicator Awards and judged by a panel. Founded more than 25 years ago, the Communicator Awards are hosted in New York by the Academy of Interactive and Visual Arts (AIVA). They honor outstanding works in the fields of marketing, advertising and media communication.
The Academy of Interactive & Visual Arts brings together acclaimed media, advertising, creative and marketing professionals. Among them are members of organizations such as PureMatter, Condè Nast, Disney, Republica, Tinder, MTV, Starbucks, Fast Company, Tribal DDB, Yahoo! and more.
Because it was so nice, here's the winning simpleshow again. Is Alien William a Christmas fan or not? Find it out here!