10th February 2020
3 min read
New Year, new click! The mysimpleshow Visualize Phase now is more intuitive than ever!



Our resolution for 2020: we want to be more intuitive than ever! And now we took the first step by having optimized the Visualize Phase. This results in even more benefits for you! Our code and development experts thoroughly analyzed the Visualize Phase to find room for improvement taking into account your feedback! The result after months of hard work: a much faster and more intuitive user interface.

The update, however, includes much more than just the new user interface. The features of the Visualize Phase have also been completely revised and improved. Visualizing your ideas now takes less time than ever. On average, we have reduced the number of necessary clicks for each feature by half! But don't take our word for it, try it out yourself!


New look and new features
The first thing you will notice is the new position of the canvas. You will now find it in the center of the screen:

On the right, you will not only find all the options and features neatly arranged, but all the other illustrations you can choose from as well.


Because the features can be used more intuitively now, your focus can stay on what matters most: finding the perfect visualization to transport your message!

Editing your script now is much easier, too. If you want to change an active keyword to maybe correct a typo, the connected illustration stays the same. Much better, right?
Create explainer videos – anywhere and anytime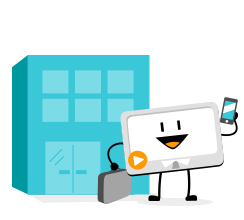 You like to work on the go? Now, this is also possible with mysimpleshow! The responsive design adapts to your screen size and lets you edit your explainer videos across devices and from anywhere – brilliant!

In addition, the new interface allows us to easily implement future features. So, stay tuned to see what mysimpleshow has in store for you. We have big plans!

Everything stays simple

You are already an experienced mysimpleshow user and are worried that you will now have to get used to the new interface? Rest assured: the changes in the Visualize Phase are specifically designed to help you find your way around the tool and act more naturally. You will get used to it in no time and will be amazed by all the advantages – we are sure of it. It's best to test it out right away!

So, let's be clear: the new Visualize Phase is faster, more intuitive and much easier to use. Have fun bringing your canvas to life!

You are curious? Then take a look at our optimized visualize phase!

P.S. Of course, we look forward to your feedback, because our development team is constantly working to make the user experience even better for you!