28th October 2016
5 min read
Improving Internal Communication with Video
Good communication is a priority to companies as it ensures that employees feel involved and therefore contributes to higher levels of engagement.
Sure, the channel where communication takes place is an important part of making it good… or even excellent.
And sure enough, face-to-face is always the best choice when it comes to communication – within the private as well as the business sector.
But for the latter sector, it's not that easy to adapt as soon as there are more than 20 employees.
So, that leaves us with a pressing questions: how to ensure good internal communication when it´s not possible to talk to everyone in person?
Send mail or "delivery commissaries"? Or let the moccasin telegraph work? (Note: Messages will nearly always be modified on their way through an office's hallways…if you know the game 'telephone,' it's pretty much the same 😉 )
Wait! There's another option which we would describe as "almost face-to-face" – also known as video.
The video´s status quo in companies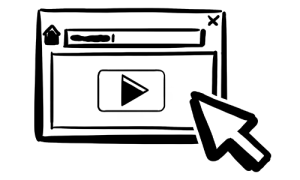 Videos are easy to incorporate: Whether as webcasts, live-streamed and/or recorded events and speeches, e-learning-modules, explainer videos, interviews or slideshows with audio tracks; with content ranging from a training session or instructions, a CEO message, or news as a product announcement; and no matter the medium, whether it´s on the intranet, spread via mail, internal television or platforms as Youtube or Vimeo (settings on private, sure) – the choices and chances are diverse.
As stated in the mentioned study, 74% of organizations already understood those huge benefits and currently use videos or webcasts for employee engagement.
On top of that, 75% of organizations note improvements in communication with remote employees by using video, 63% see the video´s benefit in learning areas as well, and 44% named the advantage of reducing travel costs when it comes to trainings and instructions for a global workforce.
Additionally, the benefit of a so far uncommon medium is a plus for several respondents:
"Employees are expecting more interesting, relevant ways to get information, just like they do in the real world."
Nevertheless, 10% of organizations are not convinced and think video is a flop.
Or as a quoted employee describes: "I'm new to my organization and I just discovered our most recent corporate promotional video. On VHS. It's 11 minutes long. Yikes!"
This brings to mind that the format of a video alone will never be the guarantee for success. Its quality and content are of great importance as well.
As well as thinking further…

So far, so good: There is a at least a video of good quality with great content. And now, what can employees do with it? Start the video, stop the video. Fast forward & rewind. That's mostly it.
But think of what we are able to do with videos on the world wide web, or more specifically in the social web: we don't only push the play-button anymore. We can leave our ratings, comment, and thereby discuss with other viewers or the creator, we can share it easily or subscribe to a channel that we pretty much appreciate.
What if all that could be transferred to videos used for internal communication? See, communication definitely wouldn't be one-directional and will therefore increase motivation and engagement.
Crossing the barriers

Though it sounds logical and promising, the majority of companies are choosing the old-school way when it comes to internal communication. Reasons for the uncertainty are also named in the study: 48% think the conception and production of videos is too time-consuming, while 42% argue they don't have the necessary equipment or skills, and 37% expect it to be too expensive.
Guess what we think? mysimpleshow is the tool that you definitely have the right skills for, and you don´t need a penny to use it – just some time and the belief that video can spruce up and push your internal communication. But we're sure that the above arguments were able to convince you 🙂
PS: In the study, you'll find further information about how companies measure the effects of using video for internal communication. If interested, check it out here.