10th June 2014
5 min read
DIY: Tell Your Own World Cup Explainer Video Story!
Countdown to the World Cup…
The time is upon us. Two days from now, fans of the beautiful game will crowd into bars, town halls, living rooms and even gardens (weather permitting of course) to watch on as the football (soccer) World Cup takes place in Brazil. Yes, ladies and gentleman, the World Cup is here. Flags will be waved, horns beeped, fingernails bitten and for one reason or another, tears will be shed. The next in a long line of eagerly anticipated international sporting events will see 32 international teams clash to become the champion of the twentieth FIFA World Cup. Let's take a look at simpleshow's adopted international country teams that are taking part: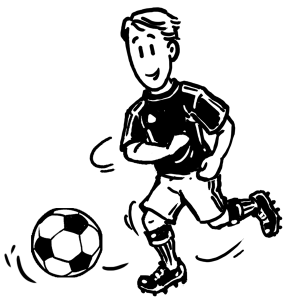 England: the year was 1966…
It's 48 years this year, since we heard Kenneth Wolstenholme's unsurpassable cries of commentary genius. You know the ones! On a day when hoards of ecstatic spectators at the old Wembley Stadium were witnessing the very unthinkable unfold before their very eyes. They thought it was all over, and then it was. We had beaten the Germans in the final of the World Cup, and in some style. Sir Alf Ramsey and his immortal English lions had stood proud, taken on the world and beaten it.
How are England's chances? Well, scepticism and logic both say no. But for the rationally impaired football romantics among us, history and godly interventions might just be on our side this time around. Let's look at some facts. In 1966, Real Madrid won the European Cup, Athletico Madrid won La Liga, Fulham were relegated from England's top division, Austria won the Eurovision song debacle and it was the last time a team came from 2-0 down to lift the FA cup. Oh, and England won the World Cup. See what we are getting at here?
Germany: three time champions
Three time World Cup winners Germany have experienced some heartbreak in recent tournaments. Having lost in the final to Brazil in 2002, Germany played host to the 2006 World Cup and reached the semi final before losing to Italy in extra time. In 2010 Germany was almost on its way to the finals before losing to eventual winner Spain, however, not before beating continental rivals England in the quarter finals. As always, Germany are one of the favourites to win as Joachim Low brings a highly skilled team with impressive young strikers after an almost perfect World Cup qualification.
Spain: the defending champions
The defending champions of the 2010 World Cup are also one of the favourites to win this year as their hero Andres Iniesta remains a vital part of the Spanish midfield. Coach Vicente Del Bosque will be aiming to become only the second manager in history to win back to back World Cups.
Switzerland: resilient young defence
The Swiss have a talented young team that is founded on a resilient defence. The team is made up of younger players that came through teams that won the Under-17 World Cup in 2007 and reached the final of the European Under-21 Championship in 2011.
USA: top of their qualifying group
USA impressed throughout the qualifying stages and by topping their group to secure their seventh successive participation at the World Cup finals. Jurgen Klinsmann's side will be aiming to at least reach the knock out stages after a fairly success year so far.
Japan: Asian champions
Japan first took part in the 1998 World Cup and have qualified for five straight World Cup finals since. The Asian champions are known for their technical ability and there are hopes that they could yet be a surprise package.
Make Your Own World Cup Explainer Video!
With simpleshow's World Cup Scribble package, you can make your own explainer video story using our paper cut-out illustrations! We have prepared a selection of amusing Scribbles inspired by the World Cup that you can download straight away. Can you recognise the five international footballers? With this special edition, you can tell your own football stories in simpleshow's explainer video style or make up your own version of the World Cup that you can share with your friends!
Download the World Cup Scribbles package here (or by clicking on the image below) and get creative! We also have an explainer video to show you how it goes!
We wish all of the teams the best of luck and look forward to the World Cup summer!