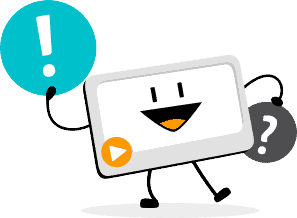 11th April 2016
4 min read
As of now creating simpleshow explainer videos is easy as pie
They say a picture is worth a thousand words. That gives you an idea of what an explainer video must be worth. Sometimes, a short and simple explanation is just what someone needs to help clearly understand how your product solves a problem, how a process works, or what an idea is all about.
At simpleshow we have created 3-minute explainer videos in our signature paper cut-out style for years. Trusting the effectiveness of simplicity, we have established the simpleshow methodology that – scientifically proven – transfers information in a way that is likable and easy-to-understand. With the power of storytelling and simple illustrations that stay in mind, even the most complex topics are easily explained with a simpleshow explainer video. (Find out more about why a simpleshow explainer video is so efficient.)

Until now, however, we were only able to produce a limited number of videos, mostly for big companies, handcrafted by our explainer team that consists of more than 150 people around the world. We have done that for 8 years and so far have produced thousands of explainer videos in more than 50 languages.
We have seen many times that a great explainer video has a real impact. So we thought about how we can make the simpleshow format available to many more people. And that's how we created mysimpleshow: it contains all our know-how and makes it easy to create great explainer videos that get the message across to your audience.


As a first step, let's tackle your story. After choosing the right storyline, it'll be a cinch for you to structure your thoughts. Guidance and examples will help you write an interesting plot. And within minutes you'll find yourself creating an entertaining story. Well, text is the easy part, you may think. Most people will probably agree, as the majority of people find it hard to think in pictures. Lucky you, you don't have to be a creative superhero to create the most amazing videos. That's because mysimpleshow is home of the Explainer Engine. It transforms your text auto-magically into visuals and provides you with illustrations that help your audience understand your message. Don't worry, if the Explainer Engine has not plopped out the perfect match. You can go ahead and choose alternatives, explore our visual database, upload your own images, use text, and pimp all of those images.
All set? Well, almost… Your video needs a voiceover. If you are an experienced speaker or even a voiceover artist, great. Go ahead and record your voiceover. It will be added to your video in an instant. Not the greatest speaker? No one at hand who can lend you their voice? No problem at all. James and Paul are available to help you out. James who? Paul …? James and Paul are automated voices that are here for you to speak your text. They are really smart and most of the time will pronounce your English text pretty much perfectly. If they don't get it right, give them a hint. Change your text just a little bit, so they can give it another try.
One final preview, all looks great, so get started and click that publish button. No worries, first we will render your video. Afterwards you can decide if you wish to share it through YouTube or download only for your own use.
mysimpleshow is a brand new product and we'd love to see you trying it out! Please feel free to send us some feedback and let us know how you like it.
Check out our blog and learn about more news, tips and tricks, and applications for your mysimpleshow explainer video. Enjoy and keep explaining!