18th April 2019
2 min read
Game of Thrones ist tödlich! Hier sind unsere 10 Tipps, wie Sie "Game of Thrones" überleben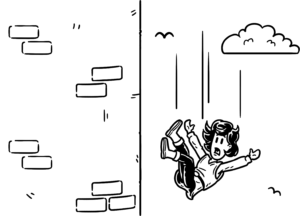 Endlich ist er da, der Winter. Oder eher die finale Staffel von Game of Thrones. Wir bei simpleshow sind große Fans des blutigen Epos, das seit gestern unweigerlich seinem Ende entgegensteuert. Und wir sind sicher: Nicht viele unserer geliebten Serienhelden werden die kommenden Wochen überleben – Valar morghulis und so…
Als Erklärexperten sahen wir es daher als unsere Pflicht, den Federkiel ins Tintenfass zu tauchen und allen Maestern, Nachtwachen, Sers, Lords und Ladies da draußen zu erklären, wie sich das verfrühte Ableben in den Sieben Königslanden noch etwas hinauszögern lässt.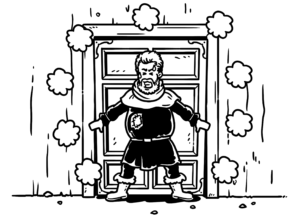 Hier erfahrt ihr zum Beispiel, was es alles im Umgang mit Türen zu beachten gilt. Die spielen in Game of Thrones nämlich öfter eine Rolle – eine tödliche! Und wir zeigen euch, warum ihr in der Welt von Game of Thrones lieber auf alles verzichtet, das mit Kirchen und kirchlichen Ritualen zu tun hat. Wobei euch das vielleicht zumindest für die Zeit nach eurem Ableben einen Vorteil verschaffen könnte. Einen Hinweis zur artgerechten Haltung von Bluthunden erhaltet ihr übrigens auch noch dazu!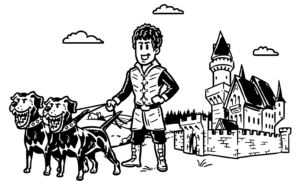 Wer in den Sieben Königslanden sicher sein möchte, sollte außerdem nicht zu neugierig sein – auch wenn Voyeur Bran damit in der ersten Staffel gerade noch mal glimpflich davonkam. Im Zweifelsfall raten wir des weiteren dazu, sich nur Fremden anzuvertrauen, die viel wissen – oder zumindest nicht nichts! Das gilt vermutlich auch, wenn man sich auf die Jagd begibt. Dabei kann nämlich ebenfalls allerlei schief gehen. Und wenn das eigene Schicksal von George R. R. Martin bestimmt wird, hat das – natürlich – ein tödliches Ende. Genau, wie wenn man sich in die falsche Person verliebt. Und wenn nicht mal mehr das sicher ist, was soll einen dann überhaupt noch vor dem Serientod bewahren? Wir werden sehen.